Gift Certificates NOW available!
Do you need a gift, but not sure what to buy? Surprise a friend with a Gift Certificate from Patchwork & Paint!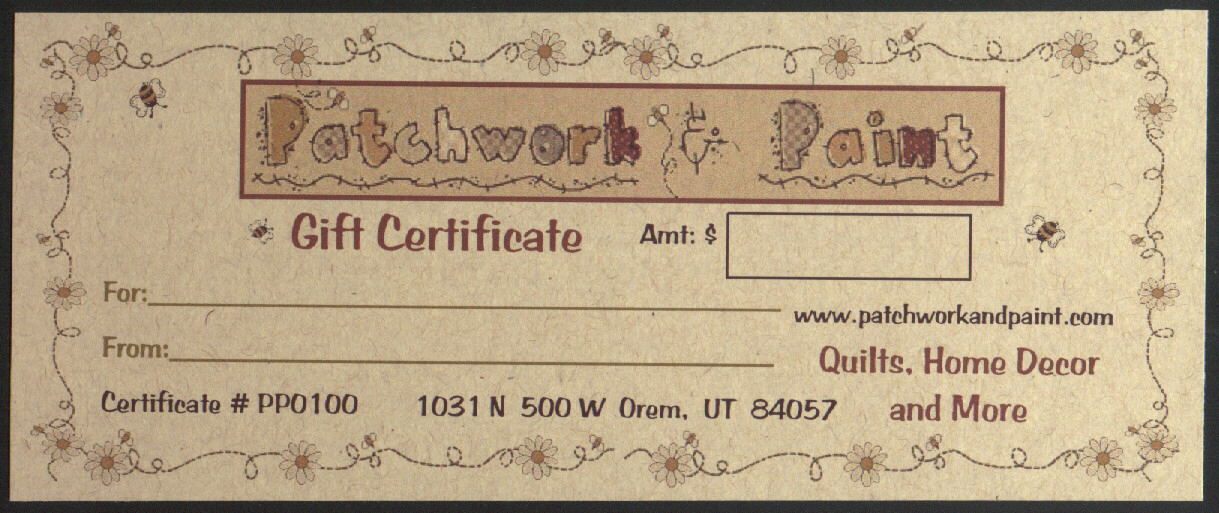 Available in multiples of $5.00
Simply change the quantity in the shopping cart to equal the total amount of the certificate. (For example, if you would like a $20.00 certificate, the quantity would be 4 (x $5.00 = $20.00).
You will also receive a discount in shipping if you are purchasing a gift certificate!
When ordering gift certificates, the shipping cost will only be $1.00, rather than the flat rate of $7.00. (*Shipping discount will not be reflected in the shopping cart, but will be hand-deducted when your order is processed. You will receive a confirmation email after your order is placed, and the corrected purchase total will be included.*)
Certificates do not have an expiration date, and can be used on any items available on the website! (Certificate may also be used at our "Swiss Days" booth.)

Gift certificate will be sent to the recipient of your choice, along with a FREE gift card and/or message.
Your recipient can then shop on our website at their convenience. Gift certificates are easy to redeem - the recipient will enter a gift certificate number (which is mailed along with the certificate) during "checkout" after all of their items have been added to the shopping cart. The amount of the certificate will be automatically deducted from the order total.

Patchwork & Paint
Belinda Pedersen / Owner
1031 N. 500 W.
Orem, UT 84057
(801) 376-8152

Send mail to customerservice@patchworkandpaint.com
with questions or comments about this web site.

Home | Mini Quilts | Hangers | Home Decor | Patterns | Buttons | Stitcheries
Americana | Spring | Fall | Christmas | Quilt-A-Month Club
Guestbook | Printable Order Form | Shipping | Contact Us
View Cart | Check Out

All contents of this website are property of Patchwork & Paint.
© 2002-2004 Patchwork & Paint - All rights reserved.
Site Design by Just Heavenly Creative Design